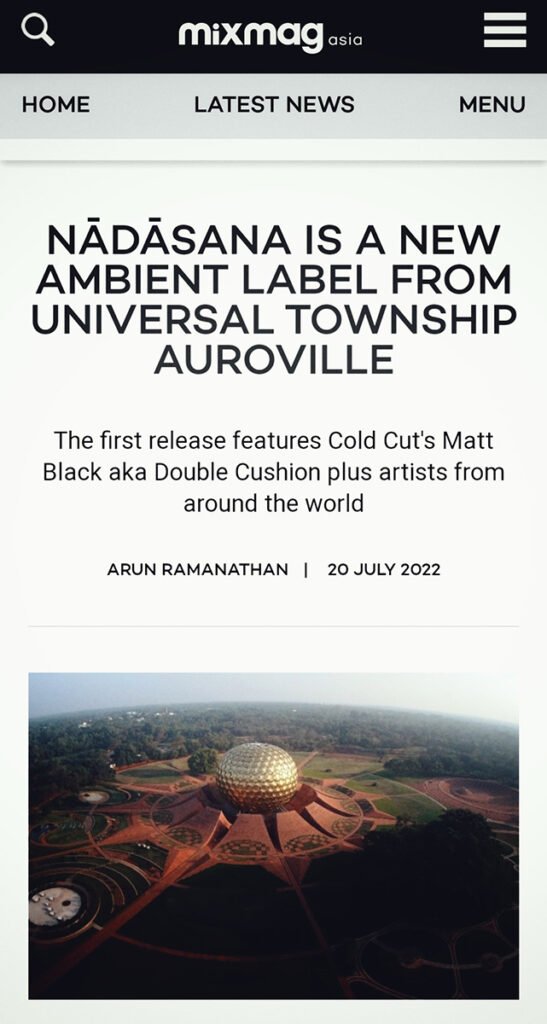 Nādāsana is a new record label out of Auroville — the government-free township started by yogis and spiritual gurus Mirra Alfassa and Sri Aurobindo, and which is located partly in the state of Tamil Nadu and partly in the Union Territory of Pondicherry in India.
The label's first release, 'Inter-Galactic Sonor Communication Probe Vol.1' is a conceptual output curated by label founder Jyoti Naoki Eri, and features ambient and experimental works from around the world.
The concept follows NASA's Voyager project led by Carl Sagan on a sonic space probe mission to Messier 31, the Andromeda Galaxy, which is approximately 2.5 million light-years from Earth and the nearest major galaxy to the Milky Way. Jyoti's goal is to use this ambient curation "to establish contact with sensory conscious beings in outer space through sounds created on planet Earth."
The release title resonates with the interstellar beliefs of Auroville residents and followers, who reside around the giant golden geodesic dome known as the "Matrimandir. It's an awe-inspiring structure that exudes a cosmic presence, almost like a golden UFO waiting to take off. Essentially, it's just a yoga hall, but in line with Nādāsana's first release, we can pretend for a moment otherwise.
Article: MixMag Asia [HK]